Masters of the Verdadera Destreza
Introduction | Jerónimo Sánchez de Carranza | Luis Pacheco de Narváez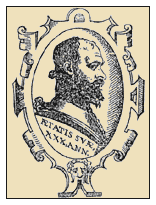 Jerónimo Sánchez de Carranza
Biographical Information | Publication Date
Translated excerpt from Historia de la filosofia en España hasta el siglo XX {History of philosophy in Spain until the 20th century}, Chapter XIV - "El siglo de oro" {The Golden Century}, Sub-chapter XII "La escolástica aplicada" {Applied Scholasticism (1)} written by Mario Méndez Bejarano (1857-1931)
Translation by Mary Curtis (September 6, 2002)
Jerónimo de Carranza wrote Of the Philosophy of the arms, of its art and the Christian offense and defense (1582). This work was printed in Sanlúcar de Barrameda, where Carranza was Governor. Cervantes tributed elegies to him in the Song of Caliope. Herrera and Mosquera dedicated verses to him, the mercenary Fr. Francisco García annotated (2) it and Don Luis Pacheco de Narvaéz condensed it.
Don Jerónimo was a knight of the habit of Christ and went to Honduras with the post of Governor in 1589 (3), "where he was esteemed for his courtesy, literature and piety" (Arana). Upon his return he dedicated himself even more to his studies until his death. The octaves inserted in his work and an epistle in verse directed to the Duke of Medina Sidonia testify to his talent as a discreet poet, and in that capacity he was praised by Cervantes and Cristóbal de Mesa in his poem The Restoration of Spain. It suffices for his renown The five books about the law of the injury of the word or of the work, in which are included the true resolutions of honor and the means with which one satisfies the affronts. With twenty-six pieces of advice and Dealing with treachery.
According to Carranza, the science is in the things, the knowledge precedes the love, the human understanding "is a mirror of the real things"; but the truth and the error [279] are not found in the object, but in the spirit (4). The truth is the essence of the natural being related with understanding, it refers to the universal, not to the particular, and resides primordially in God.
Studying the fundamentals in the first dialogue, he dedicates the second to the hypocrisy of the bravos; the third to the natural causes and effects of the destreza, and the fourth to the study of honor, how it is won or lost (5) and to the doctrine of the defense and offense. All of the work is filled with serious and profound truths (6).